SoulDoctors was inspired by the darkest time in my life. There were various issues that plagued my existence, all of which did not pair well with a 26 year old undiagnosed mental illness. When I realized what my life had become, I knew that my issues required the help of someone other than myself. At the time, I was still blessed with my father's insurance, so getting quality mental and medical care wasn't an issue. I just had to carry myself to the doctor's office first. I forgot exactly how I stumbled upon ZocDoc, nor did I realize how my personal crisis would inspire me to build an affordable ZocDoc alternative, but if it were not for that website, I don't know if I would have received the high-quality medical care that I had.
What do I love about ZocDoc? Well, everything. I liked how despite it being 3am, I could still log onto my computer, take my time browsing specialists in my area and book an appointment for the same week, if not for the next day. It's a beautiful system, in every way. I could also skip the clipboard and medical papers to be filled out at the office and instead, do everything online. If you're seeing a traditional doctor, there's no reason not to check out ZocDoc, or use it as obsessively as I do.
My infatuation with the website got me thinking though: "What about the professionals that don't qualify as medical doctors, but that people still value just as much? What about a platform for them?" It was through this epiphany that I created a platform which serves as a ZocDoc alternative, which would promote both medical professionals and other types of wellness specialists. SoulDoctors currently promotes the services of:
Therapists

Life coaches

Nutritionists

Yoga teachers

Pilates instructors

Personal trainers

Massage therapists

Acupuncturists

Personal stylists
What does ZocDoc provide and what does it cost?
ZocDoc will help you streamline your entire medical office, from your appointments to your patients' paperwork but it also comes at quite the cost. ZocDoc costs a flat fee of $3000 per year, per doctor. There is also a 3-year option, at $8100 per doctor. Month-to-month options are also available for smaller, private practices. Is it worth every penny? Probably but it's also unlikely to be a rate that everyone can afford, which is where our ZocDoc alternative comes in.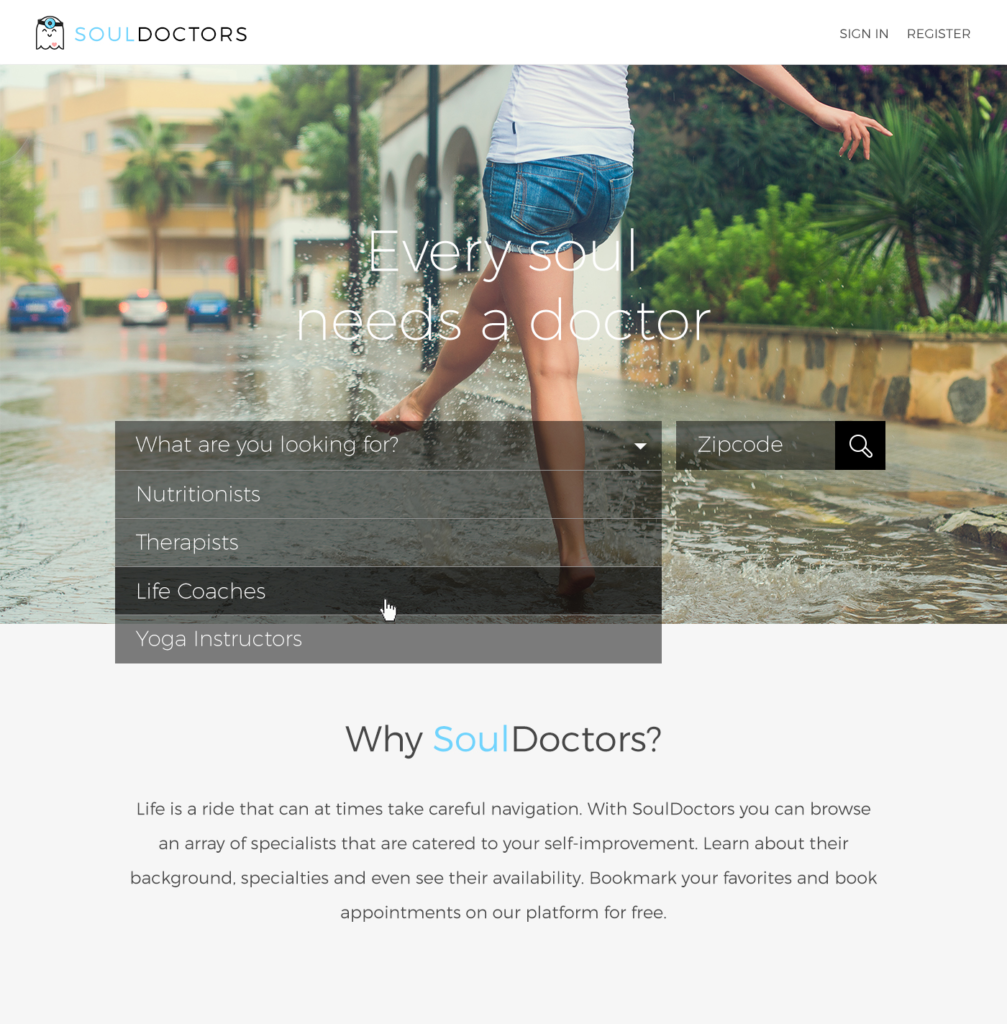 What does SoulDoctors provide that ZocDoc doesn't?
In comparison to ZocDoc, SoulDoctors targets a very niche community of wellness providers that understand the importance of a holistic approach to health. One of the obvious benefits of being listed on the platform is that people are given less than 10 options of specialists to chose from, making it easy to browse at will. Someone seeing a therapist could very easily also be interested in finding a personal trainer.
Specialists also get more profile options with a SoulDoctors membership.
Just like ZocDoc, SoulDoctors is a both a directory and an appointment booking platform.
Similarities between the two include:
Specialists are able to list their name, specialty, business name and address

They are able to upload a profile picture

They are able to post pictures of their office or studio space

There is room for a bio and their education, certifications, publications and languages

They can collect verified client reviews

Specialists are able to design their own calendar that lists dates and times of availability
A few ways that SoulDoctors is unique includes:
Ability to link to all major social media platforms

Ability to link to specialist's business website

Individuals are able to email specialists directly from their profile page

Specialists are able to embed videos from YouTube or Vimeo, to highlight their own videos or even customer testimonials

Specialists are able to specify whether they accommodate local appointments, virtual appointments or both
What are some unique features of SoulDoctors?
Designing a system that could serve as a great ZocDoc alternative meant adding even more useful features. A unique functionality that was worked into the website was the ability for specialists to be able to monitor their own client appointments, and also make and monitor their personal appointments under the same account. There are of course, separate dashboards for each. Specialists are also able to submit written articles to be featured on our blog and there is also a Business Tools page that they're able to utilize from their dashboard. Our Business Tools page has resources that are tailored for all the different types of specialists. Our materials include ebooks, tutorials and other insightful content as well.
What does SoulDoctors cost?
SoulDoctors costs $150 per month. It is also available at $1500 per year, which means that you get you 2 months for free. The intention is that the monthly cost of a SoulDoctors membership can easily be covered with 1-2 clients, serving as an incredibly reasonable and affordable ZocDoc alternative.
How do I sign up?
The official SoulDoctors platform is currently in the final testing phase and will be ready to launch soon. In order to stay updated, you can sign up for our mailing list below. We only send 2 newsletters per month but you will be notified of our launch as soon as it happens.